Please Pretty Princess Jennifer!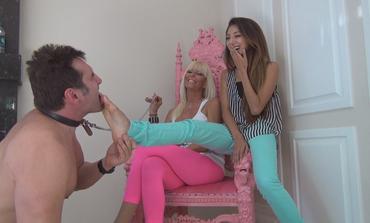 I decided to invite My first asian girl over to help Me abuse My slaves. (Ms. Kirin over at Asian Mean Girls wanted me to "give her a tryout".) And she was incredible! Introducing the newest abuser of slaves- Princess Jennifer! :)
I start Her off by dragging a slave out of its cage and instructing the newest Princess to command it to "worship her feet"- she ended up LOVING it! She couldn't believe how pathetic this loser is. He worships her sweaty feet right out of her spikey leather flats like the good little bitch it is. Beautiful Princess Jennifer even starts getting really domnant as She gets more comfortable with being worshipped- to the point that this little girl starts SHOVING her foot all the way down the slave's THROAT! HAHAHA!!! I love it. She even wipes his slobber off her foot by dismissively wiping her foot off on his hair. LOL
I think she is a natural.
She even ASKS if she can kick it in the balls toward the end of the video! So I give her a quick SOLID demo and then let HER have a few cracks at it's balls- with her cute (but razor-sharp!) little metal-spike-covered flats!
* To download this individual clip, click the "Add to Cart" button. (All clips are only $10.)PAYMENT FOR INDIVIDUAL CLIP DOWNLOADS ONLY PROCESSED VIA BITCOIN AT THIS TIME.