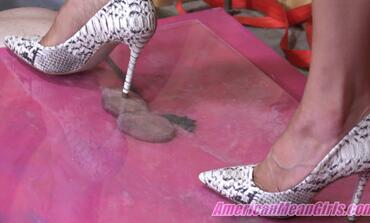 This clip took a while to set up. We took some plywood cut a whole out for his cock and balls and added a plexiglass top so we can stomp on our loser slave's nuts to our hearts content. We really didn't know the best way to set this up but after we heard the moans and groans of the old slave beneath us, we knew we where on to something! As long as a slave is in PAIN we are happy! It amuses us so much to hurt slaves...and the BEST is when you can just stand there, which takes like NO effort at ALL, and the slave underneath you is just SCREAMING in agony! HAHAHA
He kept warning us that we are "squeezing the life out of him" (LOL) which just gave us a good laugh and actually encouraged us to stomp on the plexiglass even harder!!
His poor old nuts looked like they were literally FLATTENED like pancakes underneath us! Oh well...it was too much fun for US to stop!
FEATURING: PRINCESS AMBER, MISS LEXI CHASE
* To download this individual clip, click the "Add to Cart" button. (All clips are only $10.)PAYMENT FOR INDIVIDUAL CLIP DOWNLOADS ONLY PROCESSED VIA BITCOIN AT THIS TIME.