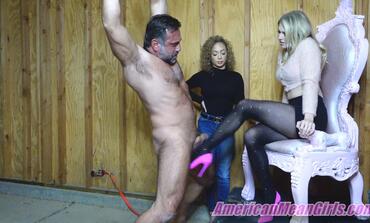 Princess Amber is showing Goddess Draya how she taught this old slave a new trick!
She has it tied up, hanging from the ceiling, and her throne set up in front of it. All she has to do is snap her fingers and say "PRESENT BALLS!"- and the stupid slave immediately spins around, gets up on its tiptoes and spreads its legs as wiiiiiide as it can in front of Princess Amber! It makes sure it is putting its balls at the PERFECT position for Amber to flick her foot out and KICK directly into its testicles without even leaving the comfort & convenience of Her throne! 
It is like SO perfect!  There is nothing better for a Mean Girl than to cause MAXIMUM PAIN to a stupid, insignificant male loser with MINIMUM EFFORT!
Draya HAS to try it...and soon they are taking turns kicking this worthless slave right in the balls from the most convenient position possible on the American Mean Girls Throne! And it HAS to obey EVERY time whenever they snap their fingers and say "PRESENT BALLS!!!"  -  No matter how many times they snap their fingers and say "PRESENT...BALLS!" Over and over again...no matter how much pain it is in already...
So much fun!
* To download this individual clip, click the "Add to Cart" button. (All clips are only $10.)PAYMENT FOR INDIVIDUAL CLIP DOWNLOADS ONLY PROCESSED VIA BITCOIN AT THIS TIME.