Princess Amber Teaches Reign About Chastity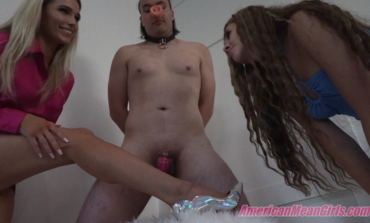 Princess Amber thinks it is time to teach Goddess Reign about chastity. There comes a time in every Mean Girls life when they need to have this talk before becoming a key holder. Goddess Reign has been curious about these tiny little cages that the Mean Girls keep on their slaves ALL THE TIME, so Princess Amber decides to teach Reign a valuable lesson on chastity. Princess Amber uses one of the new house betas for demonstration purposes so Reign can get a close up of a chastity cage.
Amber explains all the important details of chastity…. What is is, what it does, and why it's SO IMPORTANT! Princess Amber makes it clear that Keyholding is a big responsibility. The more keys you have, the easier it is to lose track of them. "Chastity is the PERFECT tool for girls to feel safe AND use betas at the same time!" Princess Amber tells Goddess Reign how desperate a beta gets when it's been locked up for a LONG time!
Reign asks if it hurts the betas to be in chastity for so long LOL. Princess Amber even takes the slaves chastity off so she can see what a shrunken dick looks like (EW! HAHAHAHA). Goddess Reign cannot wait to be a key holder so she can manipulate and use like the other Mean Girls !
- Princess Alexandria
* To download this individual clip, click the "Add to Cart" button. (All clips are only $10.)PAYMENT FOR INDIVIDUAL CLIP DOWNLOADS ONLY PROCESSED VIA BITCOIN AT THIS TIME.