Princess Chanel & Princess Ashley Return Eurotrash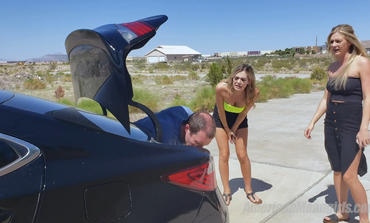 ***WARNING - NOT FOR THE FEINT OF HEART***
OMG guess who's back! Princess Chanel and Princess Ashley! Two of the all time favorite Mean Girls!
Now if you have been a fan of Mean Girls for a while you would know who EuroTrash is. And if not, he is a pathetic slave from Europe, that flies in and pays the Mean Girls to kick his ass, LOL!
This time EuroTrash begged Princess Chanel and Princess Ashley to fly in (and of course that loser paid for all accommodations) for one day to do their annual beat down. And man oh man this year was a doozy. This year EuroTrash paid each girl $4,000 just to have the opportunity to be in their perfect presence and get the crud beat out of it. What a fucking loser!!! LOL!!
We started by going to the hotel, throwing EuroTrash in the trunk, taking him to the desert compound and throwing it in a cage until we were ready to deal with it. When we were ready we pulled it out and did our first beatdown...watch to see ;)
Then we threw it back in the trunk and took it over to the Mean Girl Manor to finish the job...hahaha!
I'll leave it at that...watch and see!
***EuroTrash got exactly what he wanted. He wanted to be "beaten severely with no limits".  To be honest, Ashley & Chanel "broke" him a LOT in this video though. If you want to be one of our slaves we work within your fetish/limitation. Apply at Our americanmeangirls members site***
-Goddess Platinum