Princess Jeanie- Individual Attention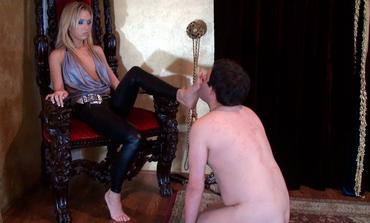 Almost forgot to put this one up! One of Princess Jeanie's slaves is BEGGING for Her "individual" attention as the 2 of them grovel before her and worship her BEAUTIFUL feet...and he gets what he wants, unfortunately!
Princess Jeanie gives him his "individual attention"...in BALLBUSTING! She makes him get on all fours, spread his legs, and smacks his balls over and over from behind with her beautiful bare foot!
To add to her slave's humiliation and remind it of it's place, she even chews up the grapes another slave brought her and spits them all over this ungrateful wretch at her feet...making him EAT the ones that miss him and fall onto the carpet...LICKING them out of the carpet!
He will think twice next time before he begs for "individual attention" from Princess Jeanie! He will learn to be happy with even just ONE of her perfect feet in his mouth!
* To download this individual clip, click the "Add to Cart" button. (All clips are only $10.)PAYMENT FOR INDIVIDUAL CLIP DOWNLOADS ONLY PROCESSED VIA BITCOIN AT THIS TIME.