Princess Jennifer haul Video 1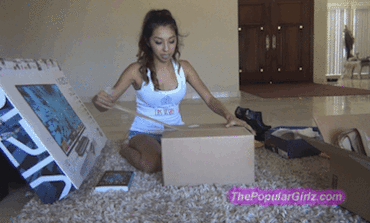 A lot of girls do these "haul" videos where they show off on u-tube the stuff that they bought at the mall or whatever. Well that's just stupid cuz you girls had to pay for that stuff yourself. A PRINCESS haul video is WAAAY better cuz some loser SLAVES paid for all the stuff you got! LOL.
And I get stuff EVERY DAY here at Mean Girl Manor. (Where I live) :)
So I decided to just document Me opening some of the packages that arrive here over the course of a few days. This shows Me opening My gifts, trying things on, and making comments to the slaves that bought them for Me. You may want to watch this if you are even THINKING about sending Me something off My wishlist. So you can see it DEF gets to Me! And make sure you do it right. Oh, and btw My FEET have a special message for you losers at the end of the video! LOL
And yes this clip is $100 cuz the proceeds from its sales is going toward My shopping $$$! I think its funny to make you losers PAY to watch ME open the gifts that YOU paid to send Me in the first place. LOL. (So if you recognize any of your gifts here, you better buy this clip!) Oh, and don't forget to go to My blog and follow Me!
* To download this individual clip, click the "Add to Cart" button. (All clips are only $10.)PAYMENT FOR INDIVIDUAL CLIP DOWNLOADS ONLY PROCESSED VIA BITCOIN AT THIS TIME.