Princess Jennifers Sock-Washer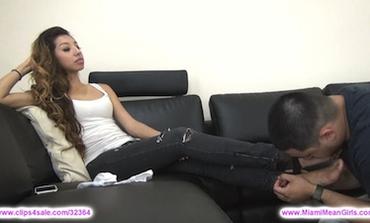 Princess Jennifer comes home from shopping and the second she sits on the couch her Mexican slave throws itself at Her feet. She is wearing tight jeans, socks, and a white tee-shirt. She could not care less about this loser. In fact, she is PISSED that his credit cards were maxed out while she was at the mall! And they got cutt off right before she was about to buy something for her boyfriend! She was SO embarrassed and lets the slave know it!
She demands a footmassage because her feet hurt so the slave takes off her shoes and rubs her feet. He is totally pathetic for her. Eventually she gets happier as the slave works on her feet and begins worshipping them to try to please her and make her happier with him.
She quizzes him about ALL of the chores he has done for her today while she was out shopping with his credit card. Then she decides that she has one more "chore" for him- She is going to use his wet mouth to clean her sweaty, smelly socks- he is going to be her "human sock washer"! She stuffs her sweaty socks into his mouth like he means absolutely nothing to her, and sets him for a 30-minute "wash"!
* To download this individual clip, click the "Add to Cart" button. (All clips are only $10.)PAYMENT FOR INDIVIDUAL CLIP DOWNLOADS ONLY PROCESSED VIA BITCOIN AT THIS TIME.