Princess Mia's Birthday Punches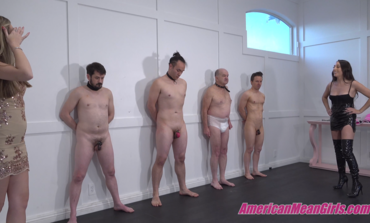 It's Mia's birthday and the Mean Girls wanted to do something fun for her before they all went out and partied on their beta's dimes. Princess Amber, Princess Skylar and Goddess Reign surprise Princess Mia with a room full of betas and boxing gloves. They explain that Mia hasn't gotten any birthday punches, and its tradition for the birthday girl to punch losers on her birthday. Princess Amber runs camera and talks from behind while the slaves sing happy birthday to Princess Mia… and she just happens to be punching them as hard as she can while they do it hahah.
Princess Skylar and Goddess Reign hold the losers in place while they get punched over and over again. Princess Mia is literally having so much fun punching these losers that she doesn't even realize how sweaty she's getting hahaha. She decides to take a break and cool off so she won't have to change her outfit. But being the generous princess that she is, Princess Mia tells Princess Skylar and Goddess Reign that they can get some punches in too (Mia wants a show!) so the girls let the betas out of chastity and punch them in the balls SUPER hard.
Princess Mia sits on the throne LAUGHING as all the losers yell in agony. What better way to start the birthday celebrations than Mean Girl style!
- Goddess Draya
* To download this individual clip, click the "Add to Cart" button. (All clips are only $10.)PAYMENT FOR INDIVIDUAL CLIP DOWNLOADS ONLY PROCESSED VIA BITCOIN AT THIS TIME.