Princess Mya's First Human Pony Ride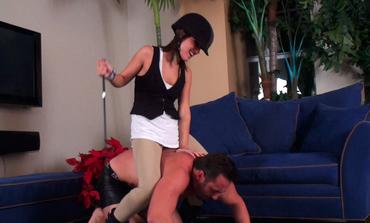 This is Princess Mya's first experience riding a slave. She has never re-purposed a slave into an to be ridden for her enjoyment before. but she seems to enjoy it! She borrowed some riding gear from a neighbor that actually owns real horses- but didn't know that Mya owned real slaves! So they thought it would be funny to use the horse's riding equipment on the slave! And what fun they had! Laughing the entire time as the slave-horse struggled to keep up with the demands of its Owner...and Princess of course doesnl't spare the dressage whip!
And Princess Mya looks SO hot in that riding helmut- worth purchasing the clip just for that alone, for those fans of Princess Mya!