Princess Nika Visits The New Mean Girl Manor Part 1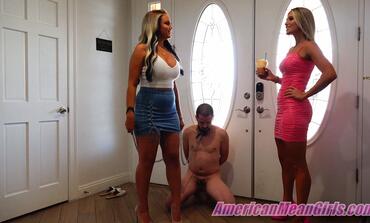 Things have been SUPER busy since I took over the Mean Girl Manor! Between contenting, slave training and house hunting, my social life has taken a set back. As a hot girl, it's important to socialize and hang out with friends… especially when there's so much to show off. That's why when I heard Nika Venom from Brat Princess was coming to Vegas, I just KNEW I had to have her over! I hadn't seen her in a while so I knew we would have TONS to catch up on…. And plenty of slaves to beat.
She arrived with her mutt, Fluffy (on a short leash of course) dragging him behind us as I gave her the official tour! Nika was SO AMAZED with how nice and spacious the NEW Mean Girl Manor is. She says it is WAY better than the Brat Princess Sorority House.  She even complimented me on how productive the house slaves were here! I explained to her that with a house this big, it's important that we put the live in losers to good use. "EVERY BETA HAS A JOB!"   I even made sure to show her mutt the communal water bowl for betas. (It's a toilet that NEVER gets flushed!)
* To download this individual clip, click the "Add to Cart" button. (All clips are only $10.)PAYMENT FOR INDIVIDUAL CLIP DOWNLOADS ONLY PROCESSED VIA BITCOIN AT THIS TIME.