Queen Grace Trampling With A Hot Spot Of Tea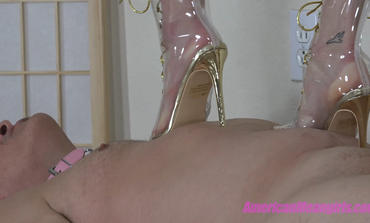 You obviously know Queen Grace is from England so she obviously loves tea as well. 
Queen Grace has recently come back to America and truly misses the feeling of American male scum under her feet. Seriously all American males belong in the "rubbish" as far as Queen Grace is concerned. 
Welllll what would be better then sipping a scolding hot spot of tea while trampling the scum she despises so much...
So that is exactly what she did!!! 
And The Queen makes sure to let the American male scum under her KNOW that if it squirms too much underneath her stiletto heels and causes her to spill her tea, well that scolding hot tea will most likely spill right onto its UGLY FACE!  Which Her Majesty would just find sooo entertaining...it is a total "win-win" for The Queen!