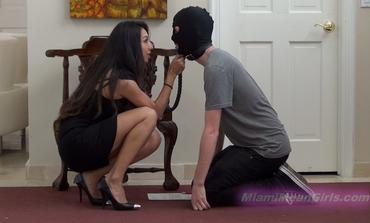 A big fan of mine flew in from Ireland and literally BEGGED to be my personal domestic servant for the day. (and of course I made his irsh ass PAY ME just for the privilege of cleaning for me! So I had about 45 minutes of it filmed for everyone to see this wimp clean my walls, kitchen and even a bunch of my shoes. But before we even begin, I put a steel chastity device on him, LOL. I cant have slaves cleaning without a cage on his cock! LOL. I can't let him enjoy it tooo much! And I even torment him, telling him that if he doesn't do a good enough job I will send him back to Ireland with that cage still on his cock- FOREVER! LOL!
For those stupid slaves that write in to Me asking "will u come to my house in (fill in your country name here) and fulfill all my fantasies?" the answer is NO!! WATCH THIS CLIP- CUZ THIS IS A REAL SESSION SERVING ME, EMPRESS JENNIFER! THIS is how u make it happen if u want to worship and serve ME, loser! Do what THIS slave did! He sent his $100 deposit. He said he was ok being filmed. He booked his travel. He forwarded an email showing his travel plans. He sent a picture of his passport. And he knelt before me upon his arrival at Mean Girl Manor and paid me MORE when he got here for the PRIVILEGE of kneeling at MY feet! I even let him where a mask and didn't beat him too badly because he was PAYING me like a good slave. ;) THAT is how u make it happen if u want to serve me, SLAVES!
-Empress Jennifer
* To download this individual clip, click the "Add to Cart" button. (All clips are only $10.)PAYMENT FOR INDIVIDUAL CLIP DOWNLOADS ONLY PROCESSED VIA BITCOIN AT THIS TIME.