Real Slave Meets Princess Cindi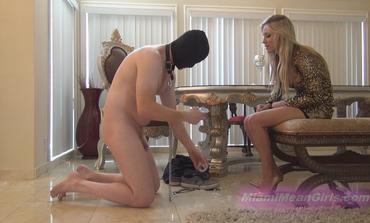 Its sooo special when a new slave writes in and begs to be owned by me! The fear in his eyes as he first sees me in person. LOL! Empress Jennifer is filming this for me as I put him through the real slave process where he signs the paperwork and gets a leash put around his neck and a chastity device is locked on him. The rules are explained: NO eye contact! / NO speaking unless spoken to! It is my property now. It will work for Princess in the following ways taking pain and taking it up the ass and sucking cock if told to! Cleaning my apartment for me and my boyfriend and anyone else for that matter. I might want to make a few extra dollars whoring it out! Lol. It must do whatever I say WITHOUT QUESTION! Including EARNING $$$ for me and my BF in any way possible!!!
*(BTW this is a REAL slave that followed all my commands and lives near me and REALLY works for me now!! This CAN happen if u idiots actually follow the simple orders we give u when you write in and u come here and do a good job for us!)*
* To download this individual clip, click the "Add to Cart" button. (All clips are only $10.)PAYMENT FOR INDIVIDUAL CLIP DOWNLOADS ONLY PROCESSED VIA BITCOIN AT THIS TIME.