Return of the Chastity Boss Part 2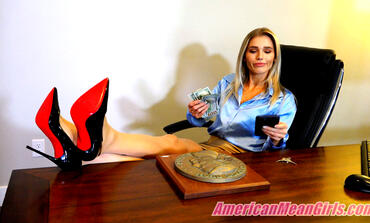 ...Bad news....it seems there was a....TIE! Miss Amber had BOTH these reps literally break sales records!! But unfortunately, a tie means there was NO WINNER....so what does she do? Does she let them BOTH out of their chastity for 5 minutes of worship"? Or...is she SO cruel that she calls it a "push" and makes them go ANOTHER month??? Miss Amber has made up her mind, but she decides to let them BEG anyway...it amuses her to watch grown men twice her age BEG at her feet like pathetic fools...
By the end of the video, Miss Amber is on a conference call with the female VP, Miss Lexi Chase, BRAGGING to her about her "motivational methods" and describing to her the 2 obedient "worker bees", naked & cock-caged, groveling at her feet, kissing her feet and literally BEGGING to work even HARDER for her this month!!
The Vice President Lexi Chase (whom you can hear on speaker phone in this clip) thinks maybe Miss Amber should be given even more control over a larger portion of the company's sales team throughout the country....oh, and she wants to see these "motivation methods" of hers IN PERSON!
* To download this individual clip, click the "Add to Cart" button. (All clips are only $10.)PAYMENT FOR INDIVIDUAL CLIP DOWNLOADS ONLY PROCESSED VIA BITCOIN AT THIS TIME.