Shine Bright Like A Diamond!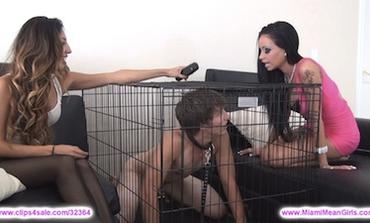 This is a HILARIOUS video. We attached a ballshocker to this little slaves balls, locked him in chastity, and threw him in a cage. Then we take turns passing the remote (for his BALLS - not the TV) back and forth and shocking the out of him while WE laugh our asses off! Fun for Us, agony for him. (From what we could tell, anyway...oh well!) It's SO much fun having a scared little electrified slave in a cage to play with! LOL!
And you can see in the video that this is REAL. When We use it right (in other words when we turn the juice UP!) and this thing goes off, the slave screeches like a little BITCH. LOL. Oh, and you will just have to download the clip to figure out the title. Let's just say We like making Our little bitch SING for Us while we torturrre it! LOL...
* To download this individual clip, click the "Add to Cart" button. (All clips are only $10.)PAYMENT FOR INDIVIDUAL CLIP DOWNLOADS ONLY PROCESSED VIA BITCOIN AT THIS TIME.