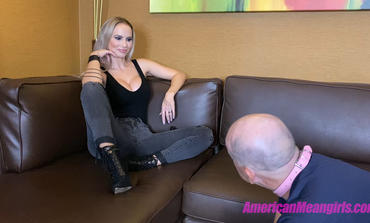 I brought my old ass freak out to play in public!  I decided we would go gamble- using ITS money, of course!
But I hate to be seen in public with any of my disgusting slaves, so I would never be nice enough to just let it come out to play without makingit SUFFER for the privilege... There was definitely a twist, or should I say "shock"! 
I surprised this loser with one of its least favorite things: the ball shocker "FOR STUBBORN SLAVES"!
I made it strip down strap that thing on as tight as it goes. Then made it put its clothes back on over it so I could test it out and make sure it was still nice and tight and delivering MAXIMUM VOLTAGE to its nut sack!
After a quick slave-tongue shoe cleaning, we went down to the casino. OMG!!! So many people were laughing and barking at my geezer slave since it was wearing its pink dawg collar. I was laughing sooo hard. After walking around with it following far enough behind me that it didn't look like it was "with" me, I finally found the perfect machine. 
I decided that this old wrinkly tuurd had to play max bet at the slot machine I chose...and every time it didn't win me money it got the electrical jolt of a lifetime!  LOL
You will not believe how this fun little game ended! 
***(This is ALL REAL and COMPLETELY FILMED OUT IN PUBLIC!!!)***
Goddess Platinum