Shoe Dangling and Dipping with Skylar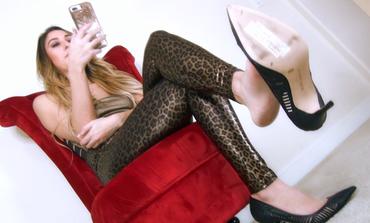 It's impossible for losers like you to resist anything that involves My feet *hair flip - duh, they're perfect, just like Me*. your obsession with My feet has sank to a whole new level of pathetic. That's why I made this clip just for you, foot freak! Get ready to be seduced with a sexy foot tease and exclusive close-ups you won't find anywhere else!
* To download this individual clip, click the "Add to Cart" button. (All clips are only $10.)PAYMENT FOR INDIVIDUAL CLIP DOWNLOADS ONLY PROCESSED VIA BITCOIN AT THIS TIME.