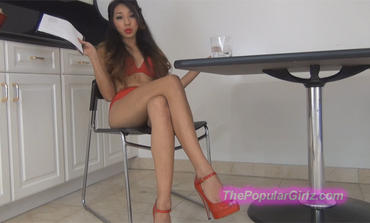 ***This was a custom clip***
Jennifer is my neighbor who wants to really boost her financial portfolio. She knows that if she comes to my house dressed "lady in red" skimpy outfit, is all dolled up, talks and acts like a dominant, superior spoiled brat goddess, and showcases her perfect legs and ass in front of me, she can my finances for all I am worth by getting me to sign the financial papers she brought. After caressing her legs and wiggling her ass, she says sees the buldge in my pants and knows she is now in total control. She tells me I will get some things she offers if I start signing financial documents. She says I must listen to what my penis is telling me to do. She says my life will have meaning knowing she is well off. She says her beauty and hot body deserve it all. One by one, she offers 1) an armpit for me to lick...i sign a document. 2) a foot to suck...i sign, 3) a booger to eat..I sign. 4) ass crack to sniff...I sign. Jennifer thanks me for giving all I own to her.
* To download this individual clip, click the "Add to Cart" button. (All clips are only $10.)PAYMENT FOR INDIVIDUAL CLIP DOWNLOADS ONLY PROCESSED VIA BITCOIN AT THIS TIME.