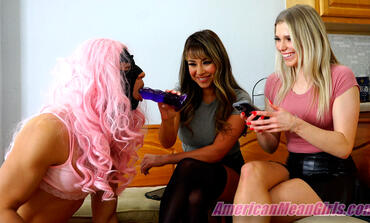 After instructing this new sissy maid to clean up our messes with its tongue, Lexi and I decided there are better ways for us to use this new sub! This sissy has NEVER sucked dick before, and so we made sure to avoid this sub making ANY bad habits!
We made this sissy dress up super pretty like, wearing sexy pink lingerie and even a LONG PINK WIG! We couldn't hold back our laughter once we completed the perfect look for this sissy! She looked ABSOLUTELY RIDICULOUS, but we just knew she would able to make some man VERY happy if she knew how to properly suck cock! HAHAHA
Us mean girls know how to properly train a slave, and made sure to cover all bases with our new sissy, Strawberry! From twerking to cock sucking and even sissy mannerisms! Our new sissy Strawberry will be sure to fill your every need! LOL
- Princess Amber
* To download this individual clip, click the "Add to Cart" button. (All clips are only $10.)PAYMENT FOR INDIVIDUAL CLIP DOWNLOADS ONLY PROCESSED VIA BITCOIN AT THIS TIME.