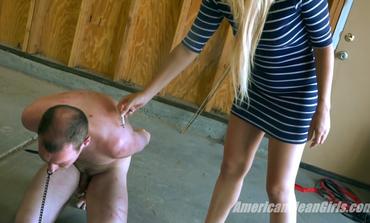 (This is part of our clip "The Return of Euro-Trash")
This is just plain ABUSE. LOL. We have been abusing this loser all day and Ashley decides to just start dragging it around on its leash- while it has its hands cuffed behind its back and is made to CRAWL behind her!
We whip it, beat it, and kick it! (And we do it all outside, right out in the open- with our neighbors walking by haha!!! The slave was sooo embarrassed!! Not to mention it was in PAIN...apparently its like really hard to crawl on your knees on hard cement while your hands are tied behind your back?? LOL We don't care- we just drag it around like a canine on a leash and kick it around like a soccer ball lol.
(Princess Skylar is filming it all for us and laughing her ass off while we abuse the F*CK outta him! You can hear her behind the camera in a lot of the clip..)
FEATURING: Princess Ashley and Princess Chanel