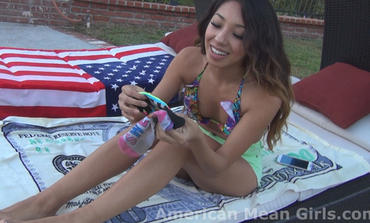 Ok, I am selling My USED socks to the highest-bidding loser! LOL. Seriously, these were worn in My clip "Lezbo Poolside Footslut" (which isn't out yet, but you will see it soon.) and I decided to make a quick video after filming the clip and sell them off to whichever of you losers buys them first!
In fact, let's just make this simple- the first 2 losers to download this clip gets 1 sock each! Download it twice and you get both! :)
Just forward Me your email receipt for the clip download to ThePopularGirlz@yahoo.com and your mailing address! (If these socks are already gone, I will send you another of My used socks of equal value! LOL)
-P. Jenn
* To download this individual clip, click the "Add to Cart" button. (All clips are only $10.)PAYMENT FOR INDIVIDUAL CLIP DOWNLOADS ONLY PROCESSED VIA BITCOIN AT THIS TIME.