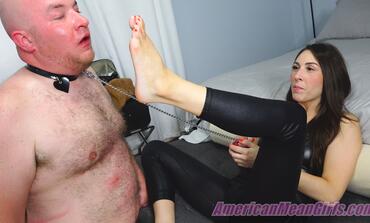 This is my personal and real life financial slave who is used to just doing chores and running errands for me on a regular basis. This was its first day being used as a clip slave for me. If it did well, I was thinking about renting it out to the other Mean Girls to use in their clips, so I can make even MORE $$$ off of it LOL.
It has been a really hard day for it as it is not used to being subjected to intense pain like it has been through today, but it is continuing on because it is so devoted to it's Princess. :) So far it has been whipped , trampled with heels, sucked on a strap on, got put into chastity and so on and so forth- and to be honest, it was really not prepared for any of this haha. (All of that was prior to this video.)
Needless to say it has not done a very good job, and I am now just trying to find something it is GOOD at, so I can end the shoot on a positive note. It has been given the assignment to worship MY perfect feet to see if he could even handle that! I have to say, it seems like it has a very sensitive gag reflex. It sounds like he's almost going to expire if anything comes near his mouth haha. But the slave does have a will and a desire to keep going- so I keep shoving my feet down its throat.
By the end of the clip, he is so out of it that he can barely even put my boots on my feet haha. His brain really has like turned to mush or something at this point. Maybe I had my feet so deep into its throat that my toes were scrambling its brians?? LOL oh well who cares? Slaves are better without brains anyway.
-Princess Skylar
* To download this individual clip, click the "Add to Cart" button. (All clips are only $10.)PAYMENT FOR INDIVIDUAL CLIP DOWNLOADS ONLY PROCESSED VIA BITCOIN AT THIS TIME.