Special Report From Lexi Chase: Trespassing In Princess Park Part 2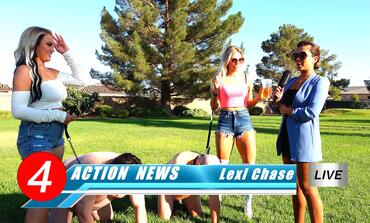 The "demonstration" that Nika and Amber put on have drawn quite a bit of attention from other park-goers! It is not log before star local reporter, Miss Lexi Chase, from Action 4 News is on the scene! She heard about this display of "public ballbusting" at the new "Princess Park" and rushed over in her news van to do a full report for her viewers!
Miss Chase asks Amber and Nika to CONTINUE kicking these fat old losers for her news report! In fact, SHE even wants to "get in on the action" HERSELF and decides to get a few kicks in to their balls as well! (It is always good when the reporter personally participates in a story!) So Lexi asks Amber and Nika to stand their "pets" up for her and command them to spread their legs nice and wide for her to kick as hard as she wants! This is gonna be so much fun, and SUCH a great story!!
FEATURING: PRINCESS AMBER, NIKA VENOM, AND SPECIAL GUEST APPEARANCE BY MISS LEXI CHASE!
* To download this individual clip, click the "Add to Cart" button. (All clips are only $10.)PAYMENT FOR INDIVIDUAL CLIP DOWNLOADS ONLY PROCESSED VIA BITCOIN AT THIS TIME.