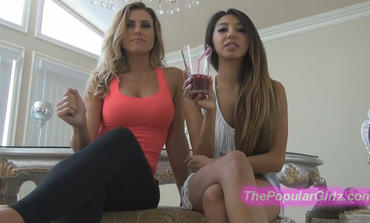 We want you to do some humiliating things for us if you want to hang out with us. We aren't going to tell you what exactly what, but it involves sticking something where most REAL men would NEVER put anything. LOL.
Oh, and we're going to laugh in your face and mock you while you do it for us too. But you'll be HAPPY to put up with that for US, won't you? I mean, look how hot we are. We are WAY out of your league and would NEVER even LOOK at a loser like you if you didn't do every fucking thing we said. At least we are letting you be in our PRESENCE and TALKING to you...you should feel LUCKY, loser!
* To download this individual clip, click the "Add to Cart" button. (All clips are only $10.)PAYMENT FOR INDIVIDUAL CLIP DOWNLOADS ONLY PROCESSED VIA BITCOIN AT THIS TIME.