Suffer For My New Louboutins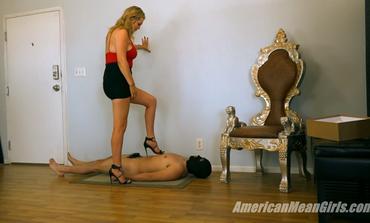 ***(Paid Custom Clip for a Member of Our Membership Site)***
True story: An online slave sent these Christian Louboutin stiletto sandals for Chanel to keep. All she had to do was torment a house-slave underneath them in a video! SoChanel said..."No problem! I don't give a fuck how much a slave sufers- as long as I get new pair of Loubs!!" Even though these heels are soooo thin- Chanel really doesn't care, she wants her new Loubs! So the slave she uses HAS to take as much trampling as she wants to dish out! She wants to make sure she REALLY hurts the slave so she maybe even gets MORE designer shoes sent to her by her online slave-fan!
And you can tell that the slave's suffering means NOTHING to her- all she cares about is HER getting to keep these shoes, and maybe even more in the future! And she doesn't care if the slave is completely destroyed underneath her in order to make that happen!
Chanel's heels dig DEEP into the slave's flesh. She leaves LOTS of marks all over its body. She laughs about how it is taking all this just so SHE can get new shoes! Poor trample-mat slave...rich slaves buy his Goddess shoes- and IT has to suffer underneath them because he isn't rich enough to buy her the shoes himself! Aww...poor trample-mat slave. But every slave needs to serve its purpose for hot, Mean Girls, right??
This slave's knows that its purpose in life is just to be walked all over. At the end, Chanel even stands on the slave and pauses to take "selfies" while her heels dig deeeep into its flesh underneath her! Poor slave is in agony...but Chael totally doesn't care.  She probably isn't even aware of it, honestly.  Then Chanel puts all her weight onto ONE needle-thin heel, as she SLAPS the slave's cock with the sole of her other shoe!
She even gives its cock a some KICKS with the metal spikes on the straps of her shoes, as she laughs about how his cock is "getting as red as the red soles of her new Louboutins!"
Also completely true:  Chanel's skinny little trample slave actually suffered a broken rib from Chanel rocking back and putting allher weight back onto her needle-thin heels so much!  (Chanel probably weighs more than her poor skinny little trample slave does! LOL!)
* To download this individual clip, click the "Add to Cart" button. (All clips are only $10.)PAYMENT FOR INDIVIDUAL CLIP DOWNLOADS ONLY PROCESSED VIA BITCOIN AT THIS TIME.