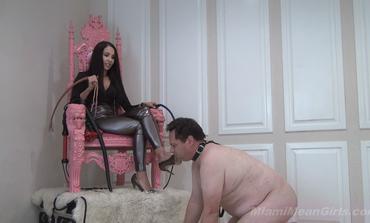 We may be Mean Girls to you, but to each other we dont mind helping a girl out once in a while HAHA. And when I found out that Empress Jennifer is discarding some of her old, REALLY beaten and broken slaves, I just had to have one. She does this every so often because the old slaves get too scarred up and damaged to keep around anymore. So anyway I heard she was getting rid of her biggest pain slut so I traded Empress for him- and all she wanted for him was an old pair of my Jimmy Choo shoes that some slave bought for me awhile back! LOL. (All of this is discussed in the beginning of the clip btw.) Although when I finally see the condition he is in, I start to think she maybe got the better part of the deal. It turns out this pathetic loser is not even a pain slut at all. He's just some moron that has been completely blackmailed by her to the point of complete pimped-out-ownership! She apparently has so much sh*tt on him that he literally has NO choice now but to do whatever the fuck the Mean Girls tell him to do- we OWN his ass now. So I take these damaged goods and use him as a practice slave to improve my whipping skills. In fact, I decided that Im just donating him as the Mean Girl Manor- as Our whipping boy for all of the girls to practice their whipping and beating skills. All of us can use him to be better at beating up worthless guys. (Or just to take our aggression out on if we are having a bad day.) I mean what else is a fuckin fat loser like this good for anyway?
Jenn said she honestly doesnt even care if he lives or dyes- we can seriously beat on him THAT bad. I mean OMFG she seriously couldnt care less. Eventually I even beat him bad enough to get him to admit out loud that I beat him worse than Jenn does! Haha. (And that is pretty bad considering how scarred up and beaten he is already!) At the end of the clip I even spend a nice long minute looking directly into his eyes while he kneels before me and explaining to him that this is just the beginning EVERY day for the rest of his miserable life is going to be like this from now on. (I actually ENJOYED seeing the terror and despair in his eyes as I coldly explained his new harsh reality to him lol.) He is now going to be abused and beaten down worse than he can ever imagine for the rest of him miserable, pathetic life. And we are all going to take turns administering his random punishments and abuse not to mention LAUGHING at him while he is in agony and profitting the whole time by filming his suffering!!! What a perfect REAL slave. Anyone else want to apply to join him here at The Mean Girl Manor? LOL.
-Princess Bella
* To download this individual clip, click the "Add to Cart" button. (All clips are only $10.)PAYMENT FOR INDIVIDUAL CLIP DOWNLOADS ONLY PROCESSED VIA BITCOIN AT THIS TIME.