Trampling with Mistress Tiffany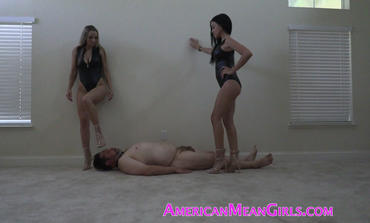 Mistress Tiffany came over to the Mean Girl Manor for the day to play and of course we had to make sure the slaves were under her feet, where they belong! We walked all over stupid, ugly slave and abused it for a while. Pretty sure Miss Tiffany gave that freak a new belly button with her heel. LOL! 
And you all think I'm mean? Miss Tiffany trampled the crud out of my slave and I'm glad because that's what it's there for! I thoroughly enjoyed hanging out with Mistress Tiffany and I loved watching her laugh as she destroys my slaves here at the Mean Girl Manor. Enjoy watching our human doormat get trampled and stay tuned for more with Mistress Tiffany...
-Goddess Platinum