Try Out the New Loser Part 2: How Much CBT Can The New Slave Take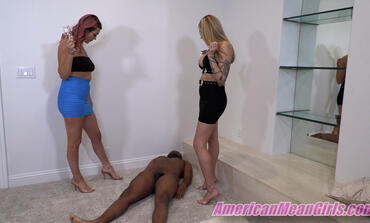 Every time we get a new slave there's a certain amount of testing and trials we put them through to see how best they can serve us. Some slaves are very good at taking our pain, while others are more service-oriented, and some are just so incompetent at everything we merely just use them as comic relief. So today we have to find out where to put this slave.  It becomes painfully obvious right away that this slave is not much for ball suffering. 
As even the most negligible flick of a riding crop on his balls drives him CRAZY lol. We can declare this test on this new slave a complete failure IN SHORT ORDER but that doesn't mean we throw him out like yesterday's garbage. The slave is sent off to be fitted for a chastity device and we delight in telling him how he'll NEVER HAVE ORGASMS AGAIN!! He will spend the rest of his life as a eunuch catering to our every whim. It's really more than he deserves, but I suppose we could say that about every slave in the Mean Girl Manor.
- Princess Amber
* To download this individual clip, click the "Add to Cart" button. (All clips are only $10.)PAYMENT FOR INDIVIDUAL CLIP DOWNLOADS ONLY PROCESSED VIA BITCOIN AT THIS TIME.