Try Out the New Loser Part 3: Ball Shaming the New Slave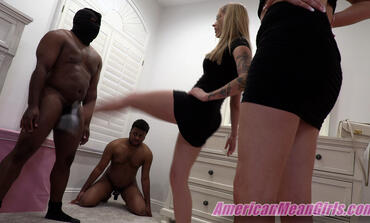 Anytime our slave fails to meet our expectations we love to rub it in their face by showing them how badly they have failed us. We do this by showing them what other slaves perform that ARE up to the task.  Such is the case with our new slave. He did such a terrible job with our CBT test we just had to show him what a real slave is like. We make him sit in the corner and witness a real hardcore ball-busting. Our slave no nuts gets kicked in the balls over and over again. 
He succeeds in enduring what the new slave has failed to.  Seeing with his own eyes that he is not good enough - and needs to suffer MORE for us! - the new slave is reduced to tears and any shred of confidence he once had is now disintegrated. It's a very necessary part of slave training to knock them down a few pegs so they can humbly service us while knowing what losers they really are. 
- Princess Amber
* To download this individual clip, click the "Add to Cart" button. (All clips are only $10.)PAYMENT FOR INDIVIDUAL CLIP DOWNLOADS ONLY PROCESSED VIA BITCOIN AT THIS TIME.