The Ultimate in Paw-thetic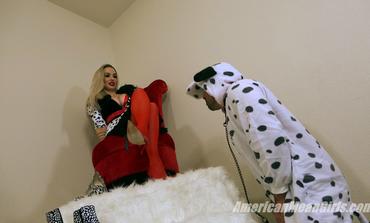 This Dalmation survived Cruella Platinum's execution of ALL of its 100 brothers and sisters!  Cruella decided to keep it alive because it was just SO obedient to her every command. It groveled at her feet constantly and even helped her with the execution of her plan to turn its siblings into designer clothing for her to wear around town!  Not to mention, it can...talk!  (Kind of...)  how amazing is that!??  But now her loyal puppee is groveling at her feet, literally begging her to...what?  What is it that this mutt wants?
Wait, it seems to want to...be TURNED INTO A PAIR OF SHOES for his beautiful Master??  Can this be real??  It actually WANTS to be slaughtered and turned into nothing more than a designer pair of pumps for his Beautiful Master to wear on her FEET?  Cruela Platinum dangles her perfect stocking-clad foot in front of the mutt's face and asks it AGAIN- "Is this REALLY what you want??  To be literally skinned alive for me, and turned into SHOES that I just slip my feet into without giving it a second thought?"  
The dawwgg begins to BEG for it!  It even begins masturbating to the thought of being turned into FOOTWEAR for its beautiful Master!!  Who knew a DAWWGG could have such a strong foot fetish??!  But Cruella Platinum DOES have the most beautiful feet in the WORLD, so it's not surprising that this poor canine is groveling for its on demise like this because of her perfect feet...
Soon, the beautiful Cruella Platinum is relishing in her power over this pathetic mutt.  Playing with its very life for her own amusement.  Dangling her perfect foot in front of it, and laughing at it while it masturbates like a pathetic hound, kneeling before her on her throne.  
She decides to make a "deal" with it- if it cums into her Jimmy Choo shoes that she has been wearing all day - basically ruining them - she WILL turn HIM into a pair of shoes for her feet!  She then begins teasing it, laughing in its face that if it dares to cum in her shoe- it will essentially seal its own demise.  She begins MOCKING it, even trying to convince it NOT to cum!  She reminds it over & over of the horrible things she will do to it if it cums!  She even COMMANDS it to pull its paw away and stop masturbating over & over...yet the stupid, pathetic, self-destructive canine STILL BEGS ITS MASTER TO LET IT CUM!!  There seems to be nothing Cruella can do to discourage this desperately loyal pooch!  It really WANTS to be turned into a pair of shoes to be worn on her feet??
Cruella mockingly decides as the mutt is on the verge of cumming that she will instead turn his fur into a "fur lining" for the insoles of ALL her shoes!  Will this change in plans finally get him to reconsider sealing his own doom?  Or will it put him over the edge??  Cruella  looks on with evil anticipation to see if she can say ANYTHING cruel and humiliating enough to get the loyal mutt to STOP masturbating to her beauty...and her perfect FEET.  Of course, she doesn't care one bit about the mutt's suffering...she just begins thinking about how nice, a comfy fur lining inside all of her designer shoes will feel as she slips her feet into them from now on!