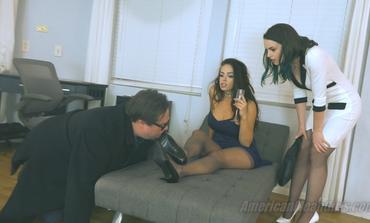 ***Paid Custom Clip***
Princess Carmela is an actress in Hollywood, and is reclining on a famous "casting couch".  A fat, old, pervy producer is obviously smitten with her beauty, and makes an innocent comment about how beautiful she is.  He doesn't think he did anything wrong, but Carmela is immediately outraged and calls her lawyer!  Within minutes her lawyer, the famous female defense attorney "Gloria Allblue"is on the scene and DEMANDS that this pervert do whatever her client demands- or else face immediate litigation! 
When asked what she wants for "restitution", Carmela says that she wants to see this "powerful producer" on his KNEES and literally BEGGING for her forgiveness!  Ms. Allblue barks her client's order at the fat old man and snaps her fingers at him- and he immediately drops to his knees at Carmela's feet and begins BEGGING her to forgive him for daring to tell her how beautiful she is!  But it's still not enough for Carmela...she wants to HUMILIATE him.  She demands that he LICK THE DIRT OFF THE SOLES OF HER SHOES!  And to her delight, Ms. Allblue makes him DO it! 
Carmela is druunkk with power at this point...and now she wants her shoes removed by this once-powerful producer and she demands that he SNIFF AND KISS THE BOTTOM OF HER STOCKING FEET!  Both Carmela and her powerful attorney laugh at this pathetic excuse for a "man" groveling at Carmela's feet.  They casually explain to him the rest of their demands...and they WILL all be met- or else he is getting sued and will lose everything!  They explain that this is just "how it is" in Hollywood now for males.  WOMEN rule everything now!  All we have to do is "hashtag" you loser, and you are DONE! 
So you better get used to begging and groveling at the feet of your new Female Masters!!