Walking All Over a Path of Slaves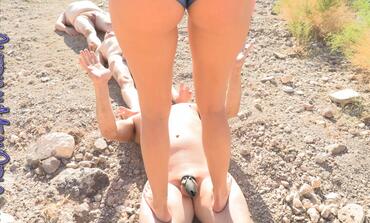 This is one of the wildest clips We have filmed in awhile as Princess Mia and I decided to start Our day with a walk through the desert canyon not far from the Punishment Compound here in Vegas.  It was a beautiful day, and We both wanted to get out and feel the sun on Our skin while enjoying the scenery throughout the area.  So we put on some sexy, shiny, bikinis to go for Our walk and torment the slaves with how hot We looked (especially the fat one, who might even have a bigger addiction to shiny than it does to food) as We walked through the desert.  
But of course nothing is ever that easy for slaves.  Did you really think We intended to let them just sit there and watch Us go for a morning walk and ogle Us with their eyes and brains filled with loser thoughts as We walked by???  Of course not stupid, We had been out partying the night before and Our feet hurt way to bad to put on shoes first thing in the morning so We decided to take Our walk barefoot.  But since walking barefoot in a desert canyon known to be home to countless snakes, scorpions, and other scary and nasty creepy crawlies, there was no way We would just be walking around without some means of protection.  
And guess what that protection was loser?  Right, slaves as a walking path.  We lined up all three losers that were at the compound that day, sent them down to the base of the stairs that leads down into the canyon from the compound, and had them lay head to foot to head to foot to head... Hahahahaha....  so when We got to the bottom, all We needed to do was step up onto each loser, an enjoy Our walk worry free.  And obviously We wanted to walk farther than the height of three losers, so as We stepped off one, it was made to run to the top of the path and lay down again, making Our slave path almost like a never-ending treadmill of losers...  and it seemed everytime one would run to insure Our path continued as long as We wished, they would almost always inadvertently lay down with a rock digging into their back, or a thorned plant reminding them that normal people don't lay down naked on the floor of the desert... but they aren't normal at all... they are the pathetic loser slaves who give up every aspect of their personal life and well being to come live at the Manor and have the opportunity to be at the feet of Perfect Women like Us permanently. (Can you say NO SELF ESTEEM??)
Oh and a few other notes about this clip... I was filming all the close up content as I walked out into the desert across these idiots.  Mia was just in front of Me so in the video there are countless shots of Her perfect gorgeous ass.. Anyway, get the clip now and support Our daily fitness goals loser, you know you wish it was you under Our feet.. 
Goddess Platinum