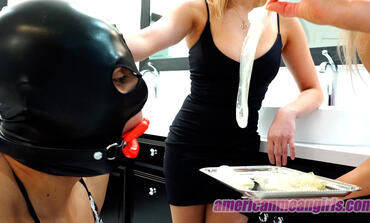 Princess Amber and Goddess Draya collect all of their used condoms during the week to feed to their pathetic sissy maid. It's her job to clean out of the cum from their alpha males, and the Mean Girls enjoy humiliating her during the process. I mean, what are slaves for if you're not USING them for your own amusement LOL
This week Princess Amber and Goddess Draya broke up with their boyfriends (they want NEW ones!) therefore the number of condoms was a little lower than usual, but the loads were still MASSIVE! One by one Amber and Draya poor the cum from the condoms down strawberry's throat! (They even let her taste the outside of the condoms to determine who's used condom it is lol). Strawberry HATES eating cum, but it is REQUIRED of her to lick the condoms clean (as part of her maid duties). Cum load after cum load, the girls laugh at strawberry for being so pathetic and LITERALLY gulping down their alpha's cum loads LOL.
Strawberry starts to get too full to take anymore, but Amber and Draya REFUSE to let the cum to go to waste and DEMAND that strawberry drink them ALL! Even if that means they have to hold this sluts mouth open to get the job done hahahahaha
- Princess Amber
* To download this individual clip, click the "Add to Cart" button. (All clips are only $10.)PAYMENT FOR INDIVIDUAL CLIP DOWNLOADS ONLY PROCESSED VIA BITCOIN AT THIS TIME.