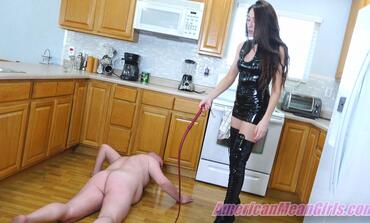 *********Custom Clip***********
Can I get a video of beautiful Princess Skylar making a slave lick water or something that she purposely spilled on the floor. And after he starts doing it she doesn't feel like he's doing it the right way so she steps on his head and pushes it into the floor with her boots while degrading him verbally and spitting on him.
And after that she starts whipping the hell out of the slave.  Can she call him things like " worthless, piece of dirt" etc...  And can she wear the same outfit in the picture I am sending you.
* To download this individual clip, click the "Add to Cart" button. (All clips are only $10.)PAYMENT FOR INDIVIDUAL CLIP DOWNLOADS ONLY PROCESSED VIA BITCOIN AT THIS TIME.