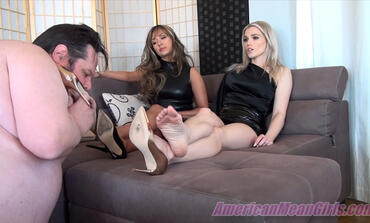 After a few months, my gross ex-husband is now transformed into my slave! Most people were confused how a beta male could EVER marry such a hot perfect woman and assumed I was ONLY with him for his money! Well…. They weren't wrong LOL. Although, I made sure to let people know that this wasn't an ordinary marriage. He never got to touch me, unless it was to rub my feet or put my shoes on for me.
Before we even got married, I was consulting with a divorce attorney about what I could get from a rich ex-husband…. Her and I became quite good friends, and after the divorce was settled, I had invited her back to my house (the one my ex-husband STILL pays for LOL) only to find him polishing my shoes with his tongue. I asked this gross loser if he's been keeping up with the divorce agreement (which states he HAS to complete a list of chores for me and write me a check every month) I command this fat loser to remove my shoes and worship my feet! Although he seems miserable to see his hot ex-wife live off his dime, talking about her late hot boyfriend with the divorce attorney…. he tries not to complain ("Tries") He begins to worship my feet while my divorce attorney and I talk about my new bf!
This foot freak had the audacity to make a peep! Lexi (my divorce attorney) joins in on verbally humiliating him and even threatens him with ANOTHER lawsuit!!!! "We can take you back to court and get EVEN MORE MONEY FROM YOU!!!" HAHAHAHA I can't help but laugh in his face while he cries in fear of FURTHER destruction.
- Princess Amber
* To download this individual clip, click the "Add to Cart" button. (All clips are only $10.)PAYMENT FOR INDIVIDUAL CLIP DOWNLOADS ONLY PROCESSED VIA BITCOIN AT THIS TIME.