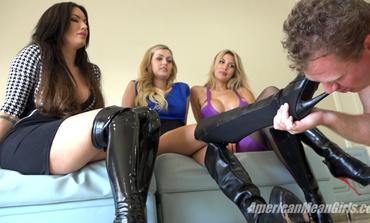 ***This is being written by the new "clip description slave" that has been commanded to watch all Mean Girls' clips and do all their writeups from now on because they shouldn't have to do their own writeups. This is how I serve because I cannot live at Mean Girl Manor.  I am to watch, review, and give a complete and fair description of each clip from a slave perspective to all potential clip-buyers before deciding to make their purchase.***
Goddess Harley, Princess Chanel, and Superior Goddess Brooke are relaxing on the couch after another long day spent bossing around and abusing slaves at Mean Girl Manor. By the end of the day their feet are tired and sweaty and ready for some attention from whichever foot slave has been assigned to worship their feet that day. Superior Goddess Brooke summons the foot slave into the room and commands him to get busy licking the bottom of her boots clean. Before he can start worshiping their feet their boots first need to cleaned of all the ball sweat, blood, and other gross things that have accumulated on them after abusing slaves all day long. Only after he has cleaned all three pairs of boots with his tongue does he finally get the chance to worship three pairs of sweaty fragrant feet.
This is one lucky slave getting to worship the boots and feet of not one but three powerful dominant Goddesses. If you have a boot or foot fetish I'm sure you are going to wish you could change places with the slave in this clip. Overall, on a "slave scale" of 1-10, I give it a "9"
* To download this individual clip, click the "Add to Cart" button. (All clips are only $10.)PAYMENT FOR INDIVIDUAL CLIP DOWNLOADS ONLY PROCESSED VIA BITCOIN AT THIS TIME.