Worship Exercising for Princess Alex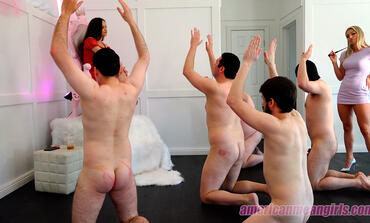 Deep down, every hot girl knows that she deserves to sit up on a throne and be WORSHIPED by betas. Simply because those stupid betas can see that she is so hot and so out of their league, that they need to literally pledge themselves to serving her every whim: on their hands and knees, laying cash at her feet, and literally bowing down and WORSHIPING her as the Superior Being that she is.
However….. at the Mean Girl Manor, this happens on a REGULAR basis.
Superior Goddesses sit on the American Mean Girl throne and take what they deserve, which is why Princess Alex was eager to take a seat upon it! There's just something so empowering about being a hot girl, sitting up on a throne as losers beg to serve you. I just love the look on Princess Alex's face when she sits on the throne and glares down at these pathetic "peasants".
And each and every slave groveling at her feet has been broken down and put into chastity, which makes them even more obedient!
As the Head Mean Girl, I am always pushing these losers to be better and more useful to hot girls everywhere. It's amusing how easy life is when you're a super attractive girl. I instruct the betas to practice bowing down to Princess Alex in unison.  But what is devotion without some induced fear?? lol
I walk around these things, whipping whomever I please. Sometimes to correct their form...and sometimes just because its funny to hear them scream.
Princess Alex has never experienced anything so invigorating…and she smiles with pleasure as she takes it all in...
- Princess Amber
* To download this individual clip, click the "Add to Cart" button. (All clips are only $10.)PAYMENT FOR INDIVIDUAL CLIP DOWNLOADS ONLY PROCESSED VIA BITCOIN AT THIS TIME.