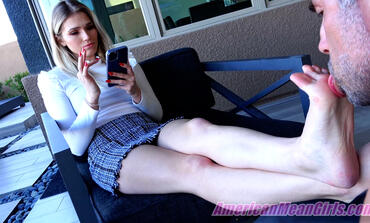 Princess Amber is relaxing out on the patio of her fabulous new villa.  There is a slave stationed nearby, bowing down with its face pressed to the concrete like a statue- but ready to spring to attention at the snap of Princess Amber's fingers.  Eventually, that "finger snap" happens- and the slave is summoned to WORSHIP!
It knows what to do, as it has been specifically trained for this task.  It slips Amber's black stiletto work pumps off, and goes to work licking the sweat off of Princess Amber's perfect size 6 feet...focusing on getting in between her toes.
Toward the end of the clip,  Amber explains to the slave how it needs to work HARDER for her- and her boyfriend. It was supposed to be doing his laundry today and didn't get it all done.  It says it has been ordered to worship feet all day, but that is no excuse!  Punishment will be in order later...
* To download this individual clip, click the "Add to Cart" button. (All clips are only $10.)PAYMENT FOR INDIVIDUAL CLIP DOWNLOADS ONLY PROCESSED VIA BITCOIN AT THIS TIME.