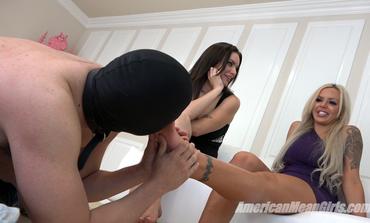 Goddess Nina and Goddess Harley set a new Mean Girl record by trampling this slave 3 times in one day. They are so happy with his effort (and learning his place- BENEATH THEIR FEET) that they actually decide to reward him for being a really good trample slave. For his reward he will be allowed to worship their bare feet right out of the sweaty shoes that they just trampled him in! Goddess Harley tells the slave her feet are reeeaaally sweaty and he better do a good job of licking them clean! Goddess Nina commands the slave to give her foot a kiss for every mark they left on his body and to thank her between each kiss for trampling him so much in her stilettos. Goddess Harley instructs the slave to put her whole foot in his mouth. (She wants to see how much he can take into his mouth!) The pathetic slave is obviously in heaven just to be allowed to worship at the feet of his two beautiful Goddesses.
If you are a good slave at Mean Girl Manor and let the Goddesses trample and abuse you as much as they want without complaint, then you too might be able to earn a reward like this slave did!  He is so lucky to be able to worship the feet of two gorgeous Amazon Goddesses. It is abviously worth all the pain and suffering and the marks left all over his body. 
* To download this individual clip, click the "Add to Cart" button. (All clips are only $10.)PAYMENT FOR INDIVIDUAL CLIP DOWNLOADS ONLY PROCESSED VIA BITCOIN AT THIS TIME.