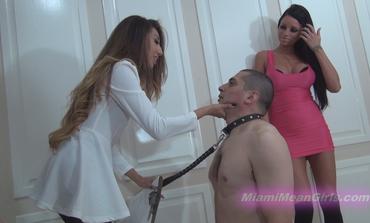 This is another applicant to Our "slave tryouts" We are having at Mean Girl Manor. This one is absolutely HIDEOUSLY ugly, but it is obviously aware of how ugly and gross it is, and knows that ugly losers like IT were meant to be nothing more than SLAVES to hot girls like US. :) So even though it is UGLY, it is still ended up making a very good slave.
In this clip We absolutely spit all OVER the loser while We are all yanking it around by it's leash and smacking it across its face. And of course, it LETS Us because it knows this is the only way it could ever be allowed around 4 girls as hot as US! We totally abuse this loser...
-The Mean Girls
* To download this individual clip, click the "Add to Cart" button. (All clips are only $10.)PAYMENT FOR INDIVIDUAL CLIP DOWNLOADS ONLY PROCESSED VIA BITCOIN AT THIS TIME.