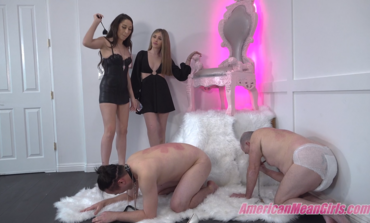 Princess Skylar and Goddess Reign are hanging out in the throne room while some slaves lick their shoes clean. Goddess Reign is new at the Mean Girl manor so she hasn't had a chance to learn all of the slaves names yet…. (Lol) Princess Skylar explains to Reign that their "names" don't matter. "You can literally call them whatever you want, the more insulting the name, the better". Goddess Reign laughs at this idea, already thinking of humiliating and degrading things to call these LOSERS!
Princess Skylar shoes Goddess Reign just how MEAN she can really be, insulting the slaves just for the fun of it (and of course the slaves respond) hahahahahaha ANYTHING goes when "naming" these fugly betas…. From toilet brush to smelly corpse and every insult in between, these losers accept their fate being whipped and humiliated by hot Mean Girls! Its not uncommon for the girls to change the names of slaves, especially when they come up with something SUPER humiliating…
In this particular case, Princess Skylar wants to change one of the slaves name to MUDD! Literally because it eats mudd and is as USELESS as mudd. But to make this insult REALLY HURT, Princess Skylar and Goddess Reign reinforce its name by whipping it over and over and over again. STINGS, doesn't it! Hahahahahahahah
- Princess Amber
 
* To download this individual clip, click the "Add to Cart" button. (All clips are only $10.)PAYMENT FOR INDIVIDUAL CLIP DOWNLOADS ONLY PROCESSED VIA BITCOIN AT THIS TIME.