18 Year Old Hannah Whips An Old Man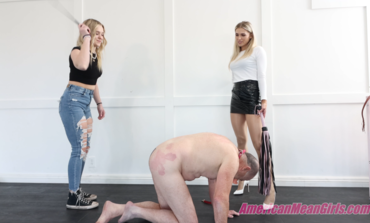 Princess Amber instructs the 80 year old geezer to lick 18 year old Princess Hannah's dirty worn out sneakers. But this idiot old fuck couldn't even do that correctly…. So of course it's going to get PUNISHED! Princess Amber doesn't waste ANY time making an example out of her slave. Princess Hannah needs to know that slaves get punished when they misbehave! As and 18 year old girl, Princess Hannah has never had to whip a beta before.
Princess Amber doesn't hold back with her whips and tells Hannah she needs to beat this slave til she feels like it's learned its lesson. Princess Hannah thinks it's funny the way this old geezer yelps when she hits him. Whip after whip, Hannah doesn't even take a moment to stop. The old beta wimp starts squirming around, so Princess Amber reminds IT why it's getting beaten in the first place. When slaves get this old, you have to keep reminding them what's going on.
Princess Hannah doesn't really care WHY they are beating this slave, she's just having fun whipping it! Princess Amber whips the beta while it licks Princess Hannah's dirty sneakers! LOL
- Princess Skylar
* To download this individual clip, click the "Add to Cart" button. (All clips are only $10.)PAYMENT FOR INDIVIDUAL CLIP DOWNLOADS ONLY PROCESSED VIA BITCOIN AT THIS TIME.