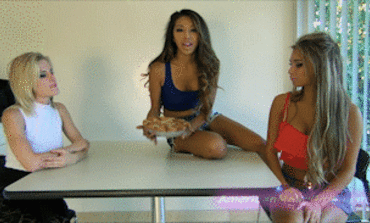 You are so pathetic we are going to make you fuck a pie because you are SUUUCH a loser- and you WILL do it, won't you!? OMG you are SUCH a fucking loser! That pie will be like your "date" LOL! We want to see if this is really like in the movie! Go ahead and get your cock out and make sure its nice n hard! And make sure the pie is nice n warm! Oh, and We ARE going to laugh at you the entire time you do this, don't worry. And you better have a spoon with you coz We are gonna make you EAT that thing after you put your own special "filling" into it! LOL!
FEATURING: Goddess Suvana, Empress Jennifer, Goddess Nikkole
* To download this individual clip, click the "Add to Cart" button. (All clips are only $10.)PAYMENT FOR INDIVIDUAL CLIP DOWNLOADS ONLY PROCESSED VIA BITCOIN AT THIS TIME.