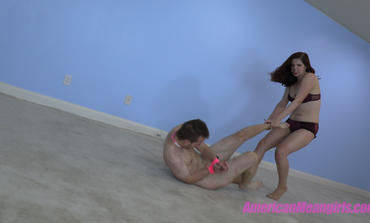 I'm still pretty new at being a Mean Girl and let me tell you, I absolutely love it!  I was born to walk all over weak, pathetic males.
I am an 5-foot 10-inch all natural, redheaded, gorgeous, amazonian woman! I'm taller then most men, I have curves in all the right places, and don't even get me started with my perfect size 10 feet.
When it comes to Femdom I feel like I have done a lot already, butttttt when Goddess Platinum told me about the tiny little Czech slave that flew over 12 hours just to serve us, the first thing that popped into my head is wrestling him and beating him into the GROUND!!! That is definitely one thing I haven't had the chance to do, but I definitely have always wanted to!
I may not be a pro at this yet, but man oh man I had a freaking blast! Hearing that little loser moaning and crying in pain as I toss him around! LOL! And I know the odds are way in my favor because this tiny, little submissive Czech bitch would never have a chance against me, but Platinum still used to duct tape to bind its wrists just to make SURE he is HELPLESS against me!!
Anyways, I had a blast tossing this tiny little submissive slut around like a rag doll. I was slapping it, punching it, kicking it, kneeing it, trampling it… I even trampled its ugly head!
Oh yeah and Platinum had a front row seat because she was cheering me on from behind the camera and filming all the action!
My favorite part was stomping my SIZE 10 FEET down on its little head!!
Mistress Dandy XoXo