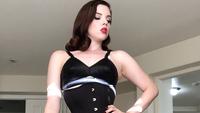 My favorite fetishes are footworship, so I can my back and have my feet pampered, and of course walletdraining! (Because who doesn't love $$$$?? LOL) 
And trampling as well- just because I loooove the simplicity of merely standing up onto a slave's prone body with my SIZE TEN (10!) FEET and letting my 6' frame sink into them underneath me...feeling their body cave in and suffer for me!!!
For those that want to spoil me, get to my WISHLIST, bitch-boy!