Broken Ribs Are Part of Being A Trample Slave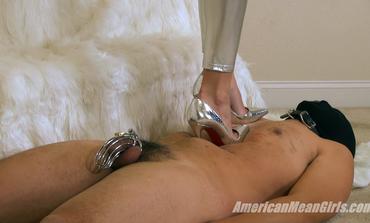 This slave has been such a good and loyal one.  It has served Us for a long time.  Bella and Beverly have broken its ribs while stomping and jumping all over it, Chanel cruusshed it under her stilettos just so she could get a new pair of Louboutins from another slave.  And now I have decided to break in My new pair of signature "Platinum Louboutin Pumps"!  These heels are sooo sharp...and the poor skinny little slave is in suuch pain...but it knows its purpose as it lays at the foot of my throne.  
I can feel its ribs cracking again underneath my heels- but I don't care.  Slaves are MEANT to be walked all over and hurt!  Their feelings don't matter.  Pain, humiliation, and suffering are just what they were born for.  Its purpose in life is to suffer under the heels of its Superiors.  To be literally walked all over- by The Mean Girls!
(The trample slave really was in tremendous pain in this clip...and barely made it!)
GODDESS PLATINUM