The Final Tribunal Part 3- The Punishment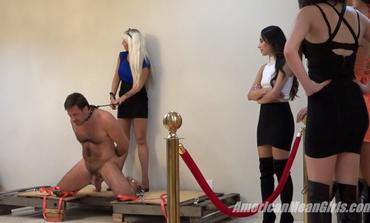 This is just the last segment of "The Final Tribunal- Deaath by Ballbusting". This is the final segment in which we have already read off the slaves crimes and strapped it into the "Testicle Torture Rack of Deaath" so we can administer its punishment at our leisure- and there is NOTHING it can do to stop its punishment. This clip is just pure testicle destruction- just kick after vicious kick. The slave is in obvious agony and really did suffer some MAJOR DAMAGE to its testicle. Haha.
***THIS IS ONE OF THE MOST BRUTAL BALLBUSTING CLIPS WE HAVE EVER FILMED- IF NOT THEE WORST ONE EVER.  KICK AFTER KICK WAS DELIVERED WITH EACH OF US TRYING TO OUT DO THE OTHER, UNTIL THE REDD STUFF WAS SPILLED AND THE SLAVE'S BALLS STARTED TO SWELL UP LIKE A GRAPEFRUIT!  THEY LITERALLY TURNED PURPLE AND WERE SWOLLEN FOR WEEKS AFTER THIS CLIP LOL.***
* To download this individual clip, click the "Add to Cart" button. (All clips are only $10.)PAYMENT FOR INDIVIDUAL CLIP DOWNLOADS ONLY PROCESSED VIA BITCOIN AT THIS TIME.