Goddess Draya's First Time Trampling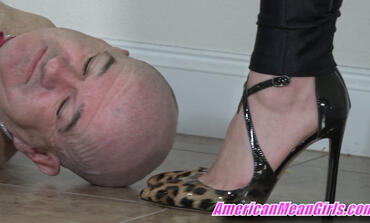 Here's another great clip from Goddess Draya's first shoot with the Mean Girl's.  Well before She became the newest Full-Time Goddess living at the Manor, Goddess Draya was introduced to keeping loser's beneath Her feet by Our Resident Amazon, Mistress Dandy.  I let the Girl's use My old ass decrepit Geezer pain-slut slave for this clip (it hated being trampled more than anything except being gagged/blindfolded or being restrained laying down when I used to beat it.. hahahaha)  Oh well, as if I really care that much what you do or don't like slave-bitch.  So, as I said, the old thing was laid down at the foot of the bar as Goddess Draya learned to get Her feet under Her while destroying this old disgusting thing.  Miss Dandy spent plenty of time shutting the loser up by stepping on it's head, mouth, and face, and no matter what, the old thing got what it deserved and wanted by being the Ground that Our Perfection Walks On...
Get the clip now loser boy and see how We all treat disposable little things like you everyday at the Mean Girl Manor.  
Goddess Platinum
* To download this individual clip, click the "Add to Cart" button. (All clips are only $10.)PAYMENT FOR INDIVIDUAL CLIP DOWNLOADS ONLY PROCESSED VIA BITCOIN AT THIS TIME.