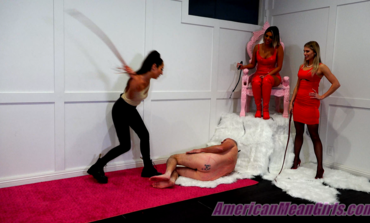 Do you know the difference between beating a loser and giving it a gift? Well, it's basically the same thing. Any attention is "good" attention for the most pathetic and useless betas. Unfortunately for this old fck, it ACTUALLY thought it was going to get a gift…. FROM ME!!!! You might think its from old age, but I'm pretty sure its just taken too many beatings from the Mean Girls. 
This dumbass did something REALLY STUPID (not surprising) and because of this, we had NO CHOICE but to give it a gift…. TRIPPLE WHIPS! Thats right, THREE Mean Girls took turns whipping it over and over for doing something stupid the other day. I sat on my throne while it bowed down at my heels while Princess Ava whipped it from behind. He begged for "mercy" lol (As if we would EVER show a beta mercy, EW!)
Princess Skylar was running camera but just couldn't help herself to join in on the fun and whip this old idiot.
* To download this individual clip, click the "Add to Cart" button. (All clips are only $10.)PAYMENT FOR INDIVIDUAL CLIP DOWNLOADS ONLY PROCESSED VIA BITCOIN AT THIS TIME.